Accepted Bulk Items
Community Cleanup
from Republic Services®
Bulk is acceptable waste too large to fit into a standard
residential container. Republic Services offers reliable
bulk solutions to fit Perryville's needs semi-annually.
October 17-21,2022
……………………………………………………………………………………………………………………..
Accepted Bulk Items
Common Household Goods
Oversized items too large to fit into a
standard container
Mattress sets must be wrapped in plastic
Home Appliances
Major home appliances typically
found in kitchen and laundry rooms
Items must be tagged refrigerant free, when applicable
Electronics
Oversized electronic devices
Brush
Plant-based waste generated
in residential settings
Items must be bundled or bagged
……………………………………………………………………………………………………………………..
⊗Unaccepted Bulk Items
We do not accept:
Oversized, hazardous or other
items outside the program
guidelines such as chemicals,
tires or car parts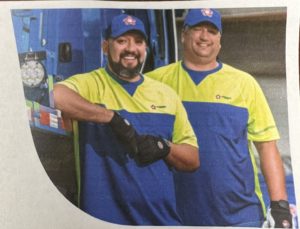 …………………………………………………………………………………………..
Program Guidelines
∗ Service Schedule
Each street will receive one pass
per cleanup event.
∗ Quantity
Up to 5 items per home.
∗ Weight
Each item can weigh up to 75 lbs.
∗ Size
Each item mudt be no larger than
4 ft. x 4 ft. x 6 ft.
If out of compliance, an O0ps tag with reasoning will
be left at the residents home.
Have items that fall outside the
program guidelines? We also offer
speciality item, seasonal and home
renovation solutions for items over
50 lbs. or high quantities of items.
Visit RepublicServices.com or call
859-263-2000 to learn more.
Republic Services proudly offers this easy to understand, safe, no-cost program to help keep Perryville clean.
©2022 Republic Services, Inc.