Police Chief
parker hatter
Fire Chief
Nathan Stevens
City maintenance director
Bertice Riley
Main Street Director
Aly Huff
NEWS & ANNOUNCEMENTS
Property Tax bills have been mailed. Payments can be made in person at City Hall, at our overnight dropbox, or mailed to City of Perryville, P.O. Box 95, Perryville, KY 40468.
All property taxes should be paid by 12/31/2023 to avoid penalty fees.
BUSINESS HOURS
Sunday CLOSED
Monday CLOSED
Tuesday 9 am – 4 pm
Wednesday 9 am – 4 pm
Thursday 9 am – 4 pm
Friday 9 am – 12 pm
Saturday CLOSED
uPCOMING EVENTS
November 25th – Perryville Christmas
About Perryville
First settled in 1781/1782 by a group from Pennsylvania led by James Harberson, who owned 1400 acres. To protect against Native Americans, they built a fort to include the spring and cave still found behind the Karrick-Parks house located on the corner of 4th and South Buell Streets.
Plot for town was laid out in 1815 by Edward Bullock and William Hall. The city was named Perryville in honor of Commodore Oliver Hazard Perry and established by legislature on January 17, 1817.
Recycling Schedule 2023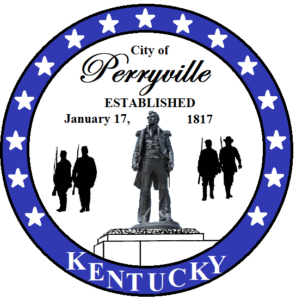 January 3
February 6
March 6
April 3
May 1
June 5
July 3
August 7
September 5 Please have recycling next to
October 2 curb by 8:30 AM in trash bags,
November 6 cardboard flattened and stacked.
December 4 Thank you. Mayor Miller
Our Location